The countdown has started, only a few days before you start packing and realize that your beauty pouch has been completely neglected. Busy shopping for new bikinis or trying on your favourite dresses? Don't worry, we've got you covered; we've prepared a complete must-have list of all the products you need to take care of your skin while on vacation. Talking about vacation, why would you want to take such good care of your skin while you're away? Because you're taking time for yourself and should stick with good products to avoid bad surprises during your stay under the tropics.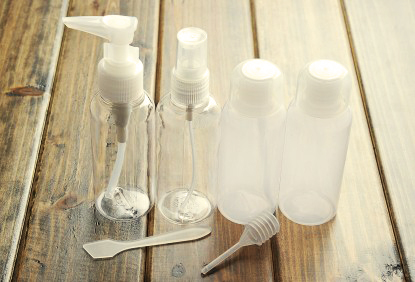 In order to travel light and protect the original packages, an easy solution would be to pour your products in empty containers. Here at Dectro, we have these little 6ml bottles that are airtight and practical! Keep in mind that the only authorized liquid and gel products in your carry-on are containers of maximum 100ml each. These products should also be in a resealable plastic bag with a maximum capacity of 1L. Another interesting option if you're leaving for a short period (one week or less) would be to get a hold of samples (space saving guaranteed!). Moreover, plane rides can be tough on your beauty products since the air pressure can blow up your containers and carriers sometimes swing your suitcases eagerly. Having your products in small sizes on board can spare you some trouble once you open your luggage!
Here Are the Top 10 Beauty Products for your Next Trip
Under the Sun
Now that you know what are the travelling essentials to pamper your skin, you're ready to complete your suitcase and carry-on worriless, have a nice trip!