Electrologists' essential work tool, a probeholder can be manipulated hundreds of times every day. A simple action that can seem harmless, when performed that often, can therefore increase in scale and significantly reduce the product's lifespan. Here are 5 tips that will allow you to use your probeholder for longer!
During a treatment
Place the probeholder cable around your neck
When the cable is placed around your neck, the link that binds it with the probeholder is straight and puts no stress on the wire inside the cable. When the cable hangs from the device, hits the ground and comes back up to your hand, the angle of the link is broken. Over time, the wire that conducts current might break.
Avoid pivoting the probeholder between your fingers
When you manipulate your probeholder to perform an insertion, your index is positioned on a certain spot. Once the insertion is performed, you have to move your fingers to remove the hair with tweezers. When replacing your fingers to move on to the next hair, make sure you place your index on the same spot to avoid rotating and twisting the cable. To view an example, click here.
Trick: to put this tip into practice, draw a mark on the probeholder and make sure your index is always placed on it when manipulating your probeholder.
Maintenance
Do not manipulate the prongs
The prongs are there to hold the probe in place. Since they're very thin, it is important to never manipulate them with your fingers or tweezers in order to avoid weakening them. It is therefore paramount that you do not pinch or bend them. Also, when you are removing or inserting the white plastic cap, avoid to touch or put pressure on the prongs.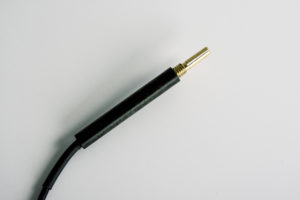 Roll the probeholder in a wide circle
If you want to store your probeholder, roll it in a quite wide circle to avoid compressing the wire that conducts current. Just like any other electrical wire, it is sensitive and a very tight circle induces a break risk which permanently damages the probeholder.
Insert the probe properly
When inserting a probe into the probeholder, it is important not to completely remove the white plastic cap. Slightly unscrew it, put the probe in the opening then tighten the cap. This way, you avoid unnecessary manipulation of the prongs. To view an example, click here.
These few work methods will allow you to keep your probeholder in better shape for longer!